Meet Our Donors
Ms. Vaudra M. Rushing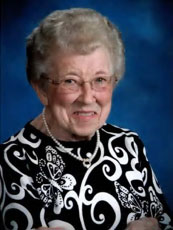 Vaudra M. Rushing was born in Carbondale, IL on February 18, 1924, to Lee W. and Mae C. Rushing.  She received her bachelor's degree from Southern Illinois University, Carbondale; a year of special education at Scarritt-Bennett College (Nashville, TN); and her master's degree in Religious Education from Wesley Theological Seminary (Washington, DC).
Ms. Rushing was an elected delegate to the 1980 North Central Jurisdictional Conference and to the 1984 and 1988 General Conferences of The United Methodist Church.  She was elected secretary of the board of directors of the National Christian Educators Fellowship (Nashville, TN), and she taught in a number of the Schools of Christian Mission.
Ms. Rushing retired in 1994 from First United Methodist Church, Champaign, IL, as coordinator of older adult and volunteer ministries.  Ms. Rushing joined the Church Triumphant on November 12, 2016.